We're going to be fairly detailed about leaving Aruba because we didn't find a lot of details about leaving Aruba for other islands versus leaving for the USA. The advice that we did find indicated that for flights not to the USA you should allow up to 2 hours. Our airline (EZair) suggested at least 90 minutes. So we played it safe and asked for a taxi at 5:30 to make our 7:55 flight. We got to the airport shortly before 6:00 and the lights were still off inside the check-in building. (There are two check-in buildings in Aruba: one for flights to the USA and one for flights elsewhere.) We sat on a bench outside and ate our muffins. Employees started trickling in, as did a few passengers. The building opened up about 6:00. There was one flight scheduled before ours, a 7:30 Divi Divi Air flight. Someone showed up to start checking those passengers at around 6:15? Then at about 6:30 someone arrived to start checking in for our flight. At check in we discovered that they enforce the eight kilo maximum weight for carry-ons. Mine was too heavy so I needed to check it but there was no charge for that. Steve got to keep his. We were informed that our next step, immigration, didn't open until so we waited in an outdoor area between the check-in building and the arrivals building. There was a cafe there serving food and coffee, and restrooms. At 7:00 they opened immigration. We then proceeded through security and then on to the gate. There were only two gates in our section. One was being used for the Dive Divi flight the other for our flight. When we walked out to the plane they checked the roller boards at the plane stairs. So the only real difference between our carry-ons was that we had to wait for mine along with our checked bag once we got to Bonaire.
We had to wait a bit for our host to pick us up at the Bonaire airport due to a traffic jam. Yes, apparently they have traffic jams on Bonaire too. We went through the check-in process at our hotel but we couldn't get into our room until 3:00. So we rearranged stuff on a day pack and decided to go for a walk downtown. There were two cruise ships in port, both Royal Caribbean. We found a place down by one of the cruise boat docks where we could sit in the shade for a while. We read and watched crab antics. The water was remarkably clear.
This section contains affiliate links. If you click on a link we may receive a commission at no cost to you.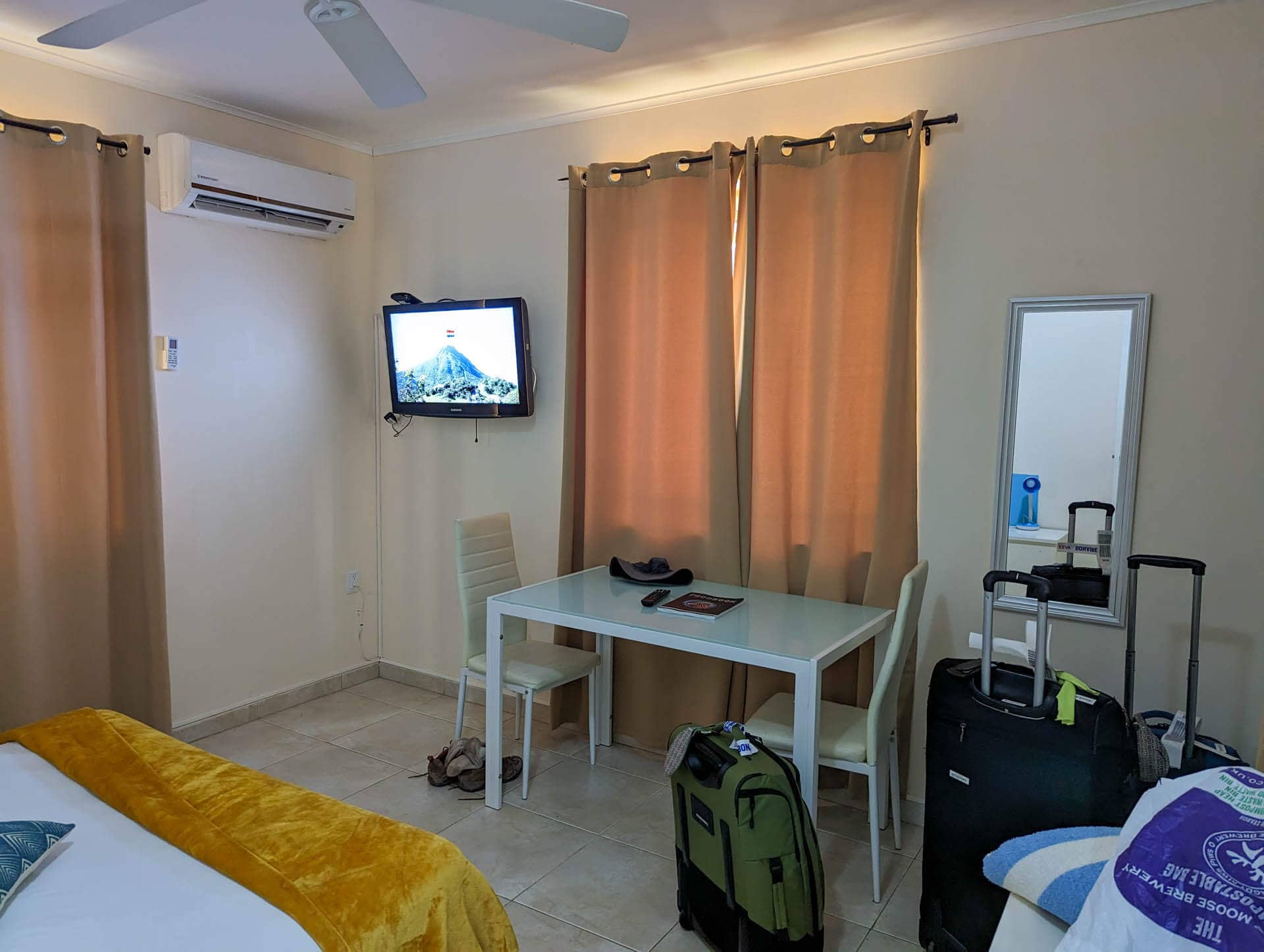 I was a little surprised to find that we did not have our own outdoor sitting area. There is space to sit outside, we just need to walk down a hallway. It's better than paying another $60 a night for a pool side room. Otherwise our room was spacious and clean and had a nice shower. Great hosts too.
Joe's was the fanciest place we ate on this trip. We had a tasty goat cheese starter that was almost dessert-like, followed by schnitzel with mushroom sauce. We split some fries and a salad. We each had a red IPA from the Netherlands. Plus they brought us bread, an amuse bouche, and with our check we got a shot of homemade liqueur made with pepper, fruit and caramel.  At Beer and Burgers we each had a first date burger which came with Brie, mushrooms, and garlic sauce and an excellent local hazy IPA. We enjoyed Parador para Mira so much we went twice. Our fish and chips at It Rains Fishes and pizza at Pasabon were also good. 
We rented a vehicle for flexibility and because there wasn't much of a bus system.