The Bocawina Rainforest Resort is a painless way to get a taste of the rainforest. It's easy to get to, the lodgings are comfortable, the food is superb, and the staff are friendly and welcoming. And it's not expensive, as many eco-lodges are. 
The excitement started before the trip even began. Due to forecasted severe weather, we weren't sure we would make our flight, so we rebooked a different route instead. And were glad we did, since our original flight was canceled just as we were getting ready to leave for the airport! It took an overnight connection to get to Belize.
Learning point: Check the weather forecast and available travel options before calling the airline, if you can.
We had another first when we arrived in Belize. The immigration official asked a lot of questions about where we were staying and who we booked with, and wanted to see a printed itinerary of our trip. Which we didn't have, because I planned the trip. Eventually, she let us go. If we return to Belize I think I'll put together a summary in case we are asked again!
We flew Maya Island Air from Belize International to Dangriga. Conveniently their desk at the airport was right across from the Belikan store. So we had a couple of 16oz stouts and scored two reusable cups for the trip. They were able to get us on an earlier flight with our luggage and notify our lodge that we were arriving early, which was super helpful. (That pattern continued throughout the trip. They were always able to fit us on an earlier flight, without even having to ask.)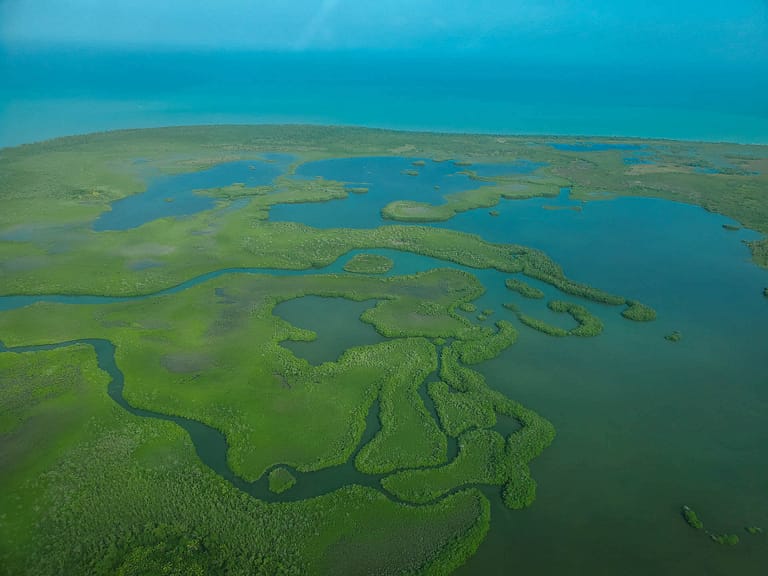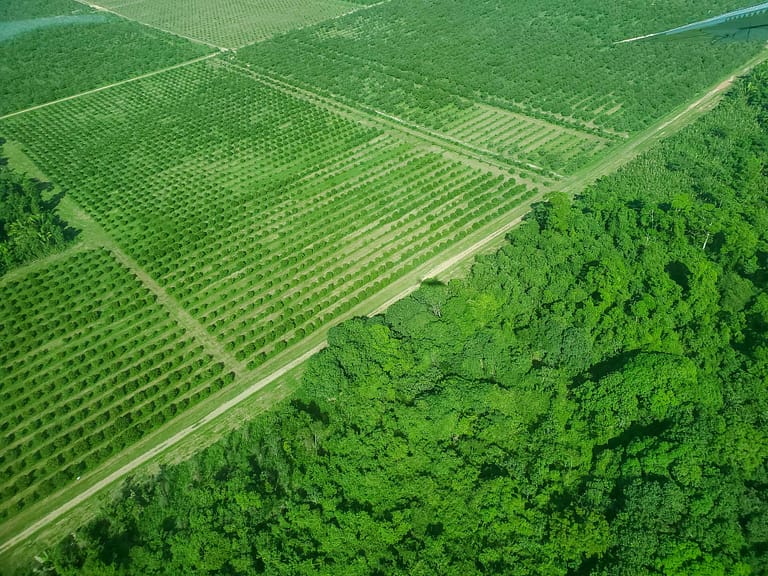 Our transport to the Bocawina Rainforest Lodge was waiting at the airport to drive us 30 minutes from the Dangriga airport to Bocawina. Everyone at the lodge was super friendly and efficient. Ken from the front desk gave us a welcome drink, a tour, and explained about the activities that were included in our stay and other options available. The lodge is small enough that it's easy to meet other guests if you like, yet rooms are scattered throughout the property so it never felt crowded or that we lacked privacy. And while the lodge is off the grid, you don't really miss it.
The menu at the onsite open-air restaurant Wild Fig was fairly compact yet interesting, and every meal we had there was excellent. As a bonus, they offer discounted cocktails and free snacks during happy hour. Our first night they offered tuna sandwiches which sounded a little odd, but they were honestly the best tuna sandwiches ever, with a nice little kick of heat. The restaurant is also kind enough to allow you to order breakfast the night before if you are leaving the resort early.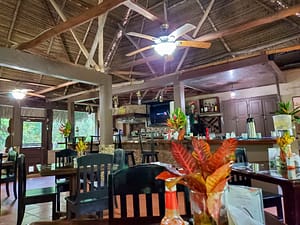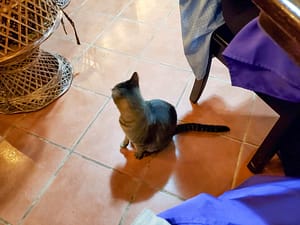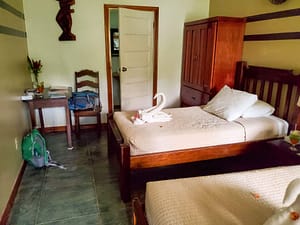 Day 2: Antelope Falls and Bocawina Falls
Our stay at the Bocawina Rainforest Resort through Island Expeditions included two guided activities. You can also hike on your own on trails within the grounds and in the surrounding national park. A nice feature of the resort is the book at the front desk where you sign in and out, so they know where to look for you if you don't show up for dinner!
Several activities are offered including ziplining, waterfall rappelling, hiking, and birdwatching. Just because we were lame – literally and figuratively – and only did walks, doesn't mean those are the only option!
On our first day there we did the Antelope Falls hike to the base of the falls and hiked to Bocawina Falls on our own. 
Our second guided activity was birdwatching starting at 6:30 am. After that we needed a nap! The entire ended up being restful since it rained most of the day. 
This section contains affiliate links. If you click on a link we may receive a commission at no cost to you. 
We booked a Mayan room, their most basic, and it was a fairly basic tropical room. They gave us a free upgrade to the Bungalow Nest for our last two nights. That room was larger and had a private deck with a nice mountain view.
There is only one place to eat and it's fabulous so that's okay. They offer a meal plan and it's worth it. 
Wild Fig Jungle Bistro & Bar
Amazing food for anywhere, but especially in the middle of the rainforest. We especially enjoyed the pork belly, almond crusted snapper, and the pancakes, though everything was great. The servers personable and very efficient.
We arranged our stay here along with our next stop, Tobacco Caye, through a Rainforest & Reef Explorer package offered by Island Expeditions. I highly recommend this as a way to get a taste of both environments without a huge planning effort.