This northern section of the Blue Ridge Parkway in Virginia is more rural than wilderness and more populated. And still beautiful.
Our last day on the parkway began with one last look at the amazing pink weeping cherry in front of the Pine Tavern Lodge. We tried to grow one of these and failed miserably.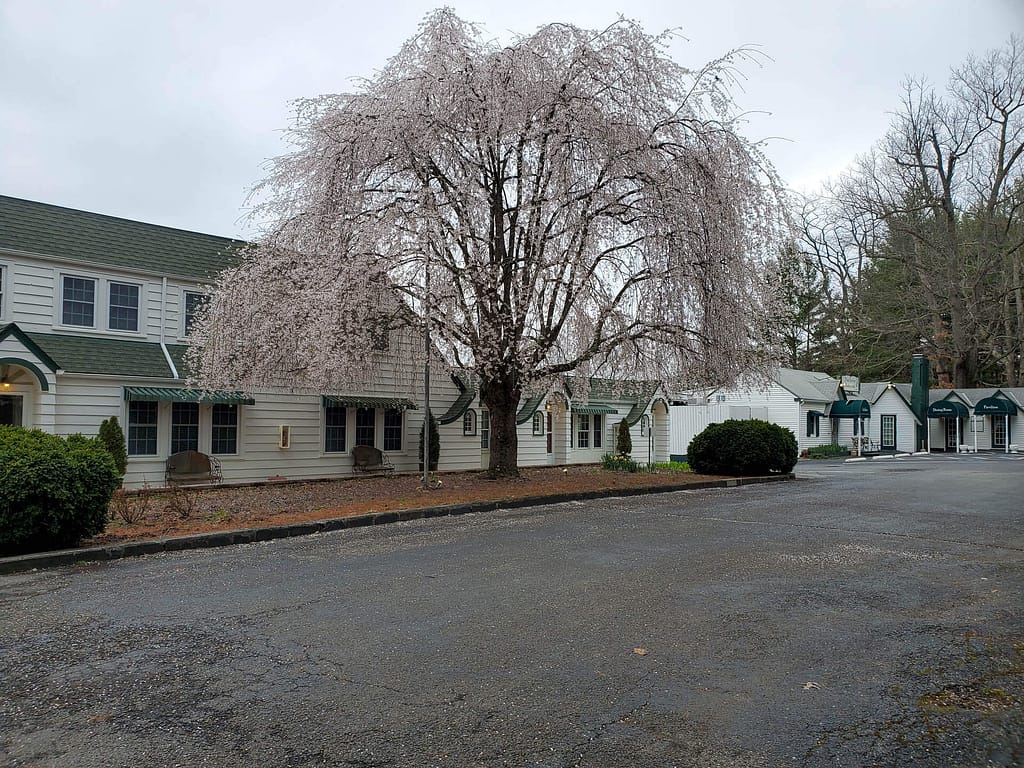 Another cloudy start to the day. Another morning of beautiful scenery. 
We stopped to hike up Buck Mountain. Steep yet short, it was another nice walk in the woods. The view at the top wasn't spectacular but it was nice. I wonder how much you would see if the trees were leafed out?
Half an hour up the road, the Roanoke River was raging. 
The eastern redbud is one of my favorite trees, and we saw a lot of them on this trip. One of things we like about taking trips south this time of year is that we get confirmation that spring is coming, even if it's going to take a while to get to where we live!
As we go further north into Virginia, the scenery changes from wild and rugged to more rural. We start to see separation between the mountains.
We stopped at Fallingwater Cascades to do a little hiking. We didn't make it all the way to the cascades. 
The Thunder Ridge overlook was our last extended stop of the day. In addition to another great scenic overlook, a short trail scrambled around and behind some large rocks at the top of the ridge. 
The northern end of the Blue Ridge Parkway ends in Front Royal, Virginia, right where the Skyline Drive through Shenandoah National Park begins. We had originally planned to drive that also but were running short of time and daylight, so we got off at the first option to head to the highway and our last night's stop in Winchester, Virginia. 
This section contains affiliate links. If you click on a link we may receive a commission at no cost to you. 
There were typical chain restaurants in the area. We had unremarkable and forgettable pizza delivered. 
You need a vehicle for the Blue Ridge Parkway. It's very twisty and has lots of tunnels. We wouldn't want to do it towing our small travel trailer.