We found Bay Saint Louis a charming, low key coastal town with a surprisingly nice beach.
Day 1: Natchez to Bay Saint Louis
We had the same full southern breakfast. We've planned our route today to go by some of the large antebellum houses in the areas. First up was Longwood, right outside Natchez, but you can only go in to do a tour. Next up was St Francisville in Louisiana. We couldn't see much of the houses driving by but the trees were impressive. We hit a huge slowdown on US12.
The town of Bay Saint Louis is cute, with a small waterfront area with bars, restaurants, and shops. We walked down to 200 North Beach for a dinner of rabbit and potato cake to start, then shrimp and oyster po'boys (Steve's first po'boy) and a good IPA.
Day 2: Walking on the "boardwalk"
We had coffee and raisin bread for breakfast. The "boardwalk" was actually a nice, wide concrete sidewalk between the beach road and the beach. Which was surprisingly long and white. Older summer houses are strung along the side of the road opposite the beach. No apartments or condos.
We hit the grocery store to stock up on snacky food (krab spread, cheese, crackers, and hummus) and a rotisserie chicken that we had for dinner. We also got some pasta and sauce as a backup for dinner. With COVID still running rampant, we're leery of dining in too much and are hesitant about dining outdoors too, since Mississippi dropped their mask mandate.
Today was much like yesterday. We don't have any real agenda here; no sights to see. I recently bought a Fitbit and one of our goals while here is to get into a fitness routine and hit 10,000 steps per day. If we get bored walking along the beach we found some possible hikes nearby.
We broke into the Aussie bites we brought with us for breakfast. The much-hyped local Community coffee is good, though not fantastic. After our morning walk we stopped for lunch burgers at 200 North Beach along with Ghost in the Machine IPA. Thanks to a lack of breeze the biting gnats were making us crazy, but we didn't want to move inside. After lunch, we drove back down to the beach with our chairs to hang out for a while. We had Chex Mix for dinner since we had such a big lunch!
Day 4: Walking the other way on the boardwalk
Today we went left when we hit the waterfront, instead of right. Wow! Mixing it up here! Tip: It's more interesting going to the right. We walked as far as the bridge and back. We've discovered the local angel trees. After Katrina there were a number of storm-damaged live oaks in the area. A chainsaw artist carved them into angels, birds and other creatures. A handful of the beautiful trees are scattered around town and along the beach.
We also spotted a heron down by the shore. There's a seawall along much of the downtown area.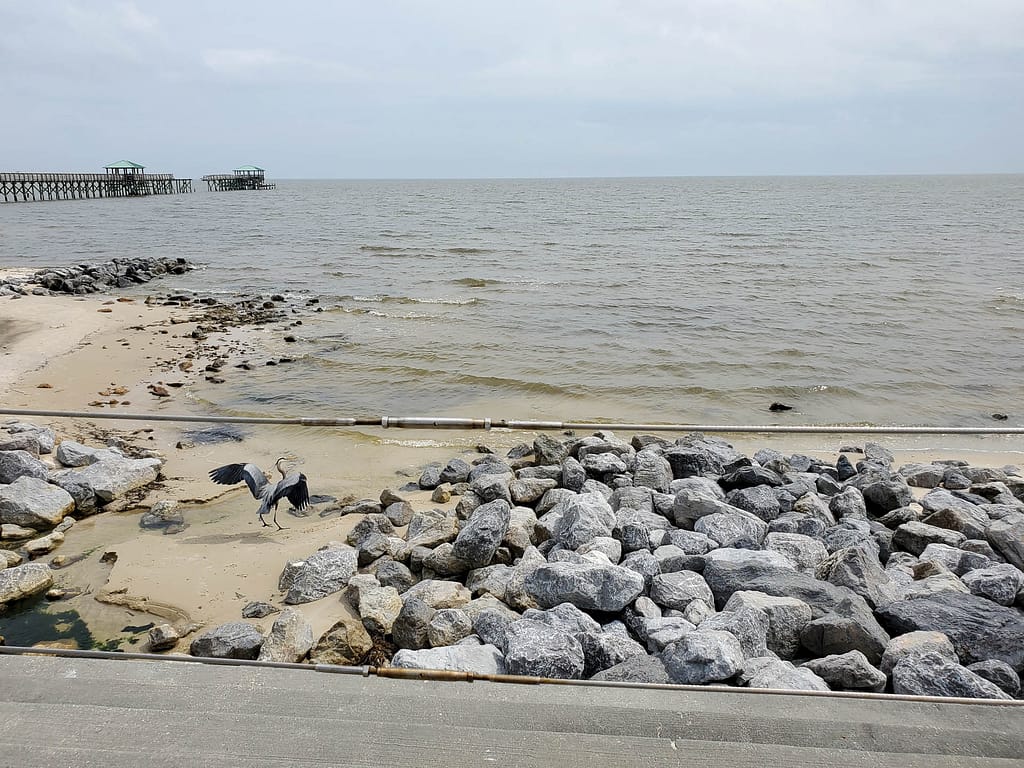 There are also train tracks through town and onto a bridge. A train went through while we were on one of our walks. It's odd to be a pedestrian near a rail crossing. 
We ate in today, having sandwiches for lunch and snacky food for dinner.
We walked to lunch at The Buttercup, since they're not open for dinner. We did a shorter walk in the morning, then a longer walk later. Not too long, though. There's a storm on the way. You can still see lots of roof tarps and other storm damage around town.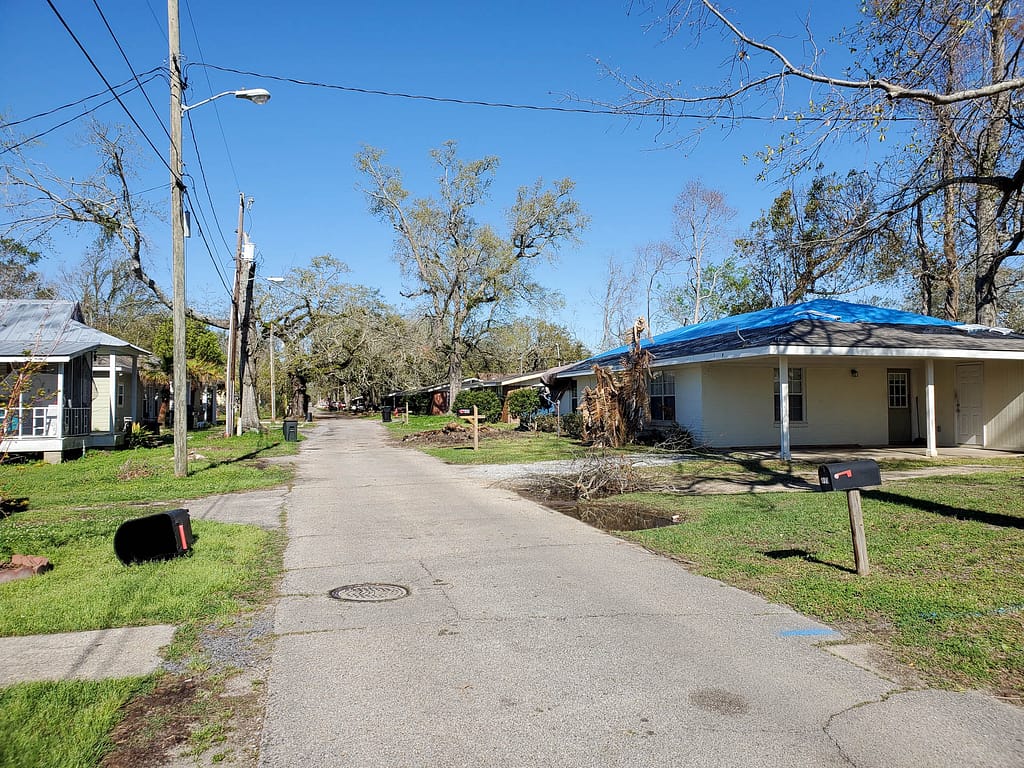 Tomorrow we head east on the coast to Orange Beach to sample the Alabama gulf coast. We liked the mellow small-town vibe here in Bay Saint Louis and we enjoyed the luxury of having a second bath (which we didn't use much) and laundry facilities, which came in handy. And while we didn't really cook in the kitchen, the prep and dining space was useful.
Oh, and the wreath below — which was on our front door — doesn't have lights on it. That's the sun reflecting off it.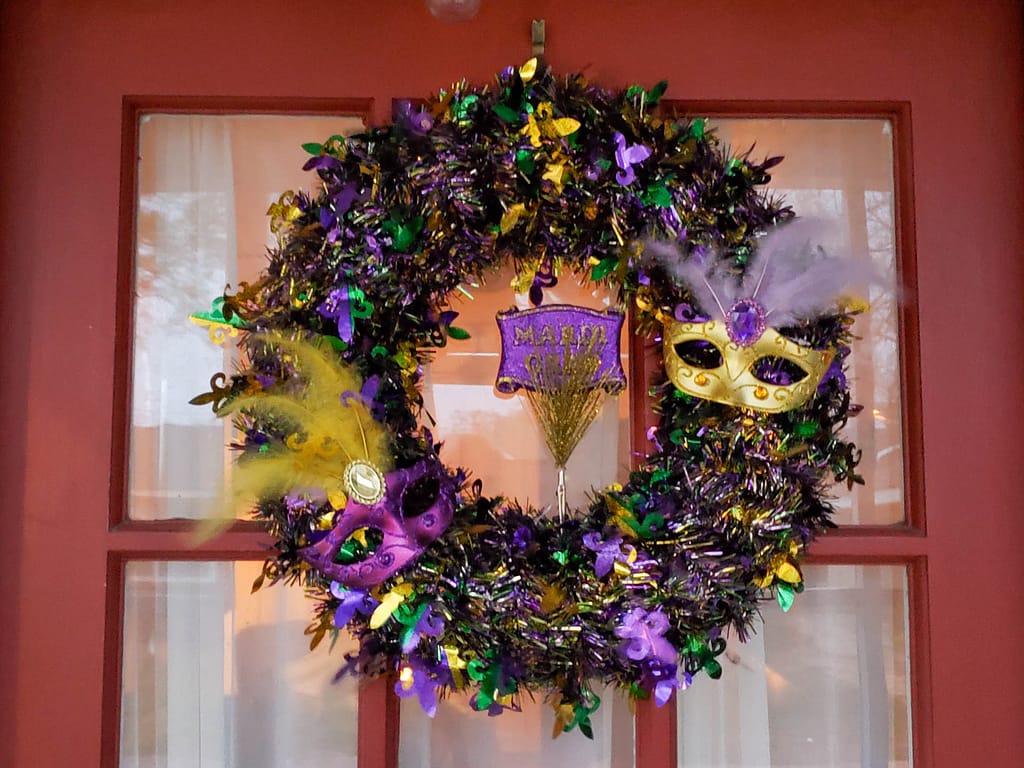 This section contains affiliate links. If you click on a link we may receive a commission at no cost to you. 
This cottage was our home base. It has a full kitchen, one-and-a-half baths, laundry, and a screened-in porch we used a lot. The decor is pleasantly coastal and breezy, with a nice corner desk where I typed these notes. It's in a quiet residential neighborhood yet walking distance to the beach and waterfront. Perfect!
Bay Saint Louis has a nice collection of bars and restaurants along the waterfront and extending a couple of blocks inland. 
200 North Beach
We had po'boys here for dinner and burgers for lunch. Both were good, with good service and pleasant outdoor dining.
The Buttercup
We had a tuna melt and a patty melt for lunch, at a nice table outside in the wind.
We drove our own car. We were able to walk to restaurants and bars.