Day 0: Home to Piraeus (Πειραιώς)
So getting to this point was uneventful. We did have some minor confusion in Philly because they had to check people's Verifly or documents for COVID requirements. And then they switched my seat because they thought I was traveling by myself so I had to go up and get us seats together again. We had to travel on different reservations because Steve was using a travel credit from a canceled trip — due to COVID — and I was not. We got a nice chicken and quinoa meal on the plane with cheese and crackers, salad, roll and butter, and brownie. The flight from Detroit to Philly was bumpy but thankfully the flight from Philly to Athens was not.
The random testing that we were worried about — Greece is doing random COVID testing at the airport — didn't happen. They looked at our PLF and waved us through.
We took the x96 Express bus from the airport to the port in Piraeus. We didn't get a bus ticket before we got on the bus at the airport — somehow we missed seeing the ticket booth right in front of us until the bus was ready to leave — and then we couldn't figure out how to get one enroute so we ended up writing the bus for free. I feel kind of bad about that but didn't know how to get around it.
It's always fun taking the bus when you're not sure where to get off. Trains and metro are much easier! It turns out gate E1, which was our stop, is the last stop on the route from the airport to the port. Helpfully the sign at the front of the bus indicated not just the name of the stop, but which gates it was for. That made it easy to figure out when to get off the bus.
So then we just had to wait until it's time to get on our ferry. And since the ferry leaves at 19:00 and we got there at 14:45 now it may be a while. At least there's a small cafe nearby in case we get hungry or thirsty or bored.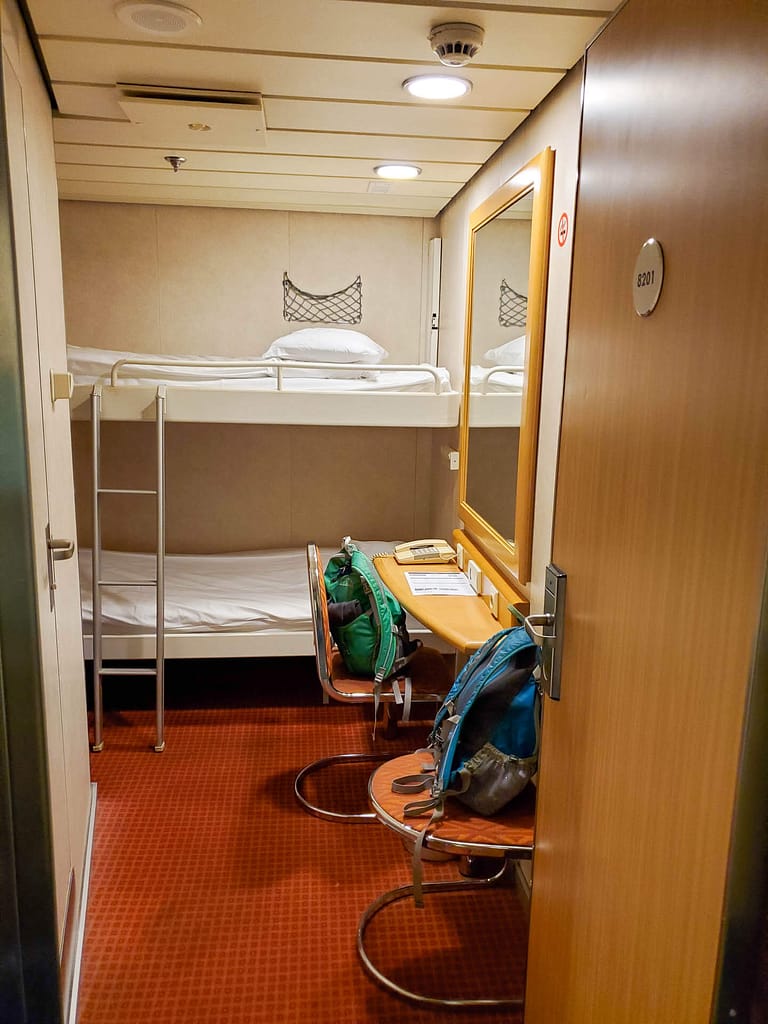 We ended up boarding at 16:00. We checked in at the entry to the boat and then they directed us to reception to get the keys for our cabin. Since this is an overnight ferry we opted for the cheapest cabin in hopes we will sleep better. Our cabin was very small but had a perfectly adequate bathroom. It was fine for sleeping (other than the motion and the noise of the boat) but you wouldn't want to hang out in there. We did get a look at the nicer outside rooms that had windows. Those were much larger and had decent size windows and those would be someplace you could actually hang out without feeling claustrophobic. But for the additional €80 our cabin was just fine.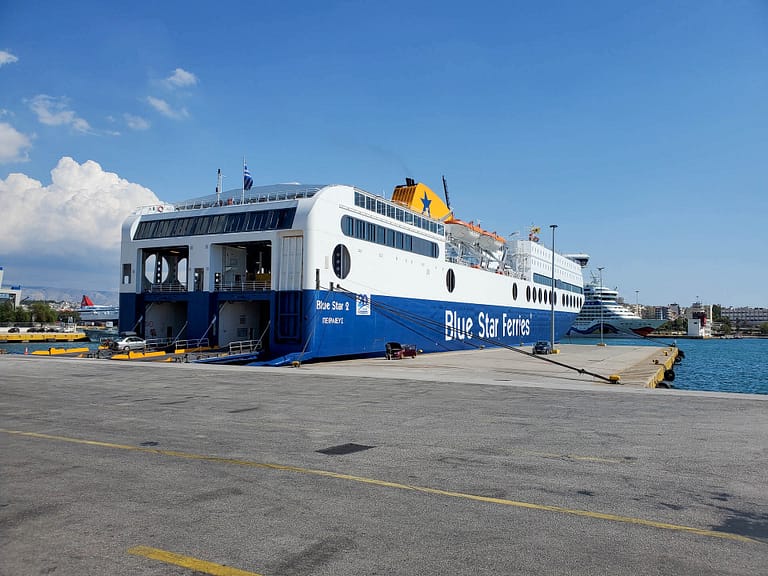 They actually had an escalator from the boat entry to the 7th deck where most of the restaurants were. We dropped our stuff in our cabin and then went exploring the boat. It looked like there was a Goody's burger place, a sit down à la carte restaurant, and some snack bars that had coffee and sandwiches. We went up to the atrium bar which had an enclosed sunroom kind of space and an open deck and had a couple of beers. Then we went back to our cabin and took a nap before dinner.
During the time we took our nap the boat really filled up. There was hardly anyone around before that and after our naps it was hard to see a table anywhere that didn't have people sitting at it. Some people only get tickets for deck space so there were people sleeping on couches and wherever they could find room. We decided to try Goody's for dinner. When we got there, we discovered they also had some ready cooked Greek food that you could get but by that time we had kind of decided on club sandwiches and fries so that's what we ordered. It was really confusing trying to order so we decided to keep it simple. It was a lot of food and a lot of fries though the sandwiches were a little dry. Then we went back up to the atrium bar for another couple of beers, bought some water, and headed for bed early because we were both tired.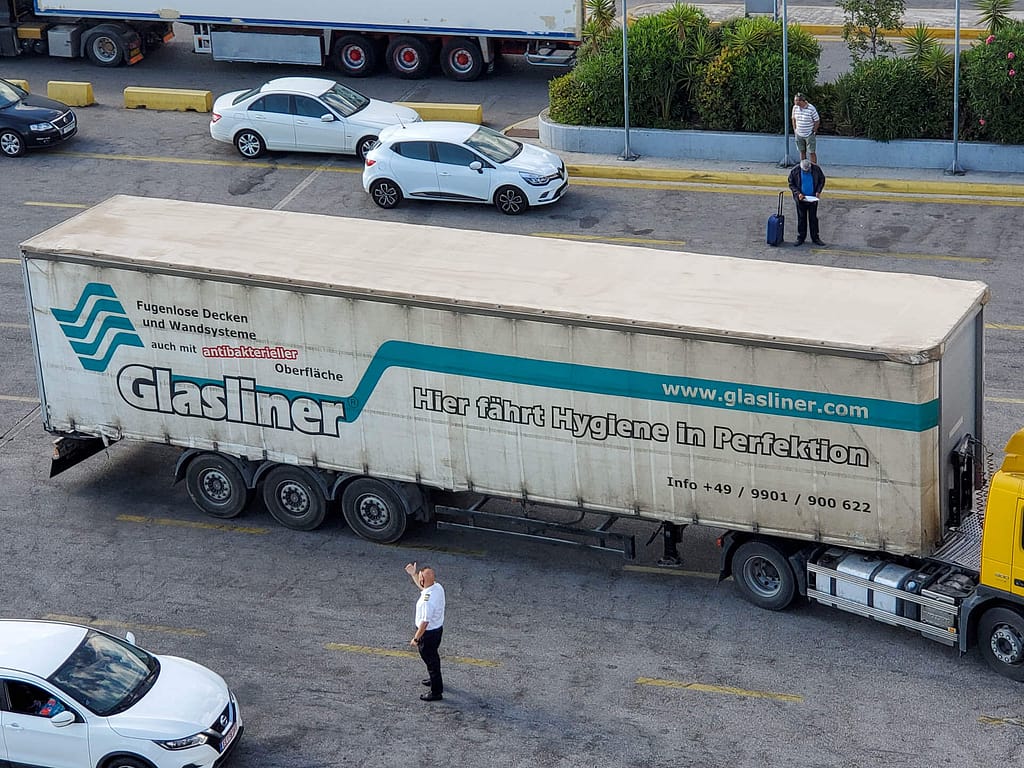 Leaving Santorini on our way home, we had enough coffee left for two cups. Stelios drove us to the airport, which looks pretty modern. They confiscated our gift from Vivere at security because the container was too big. Ah well, it's the thought that counts, right?
We definitely took the scenic route from the airport to Rafina. It took about a half-hour. We dropped our bags and went to Agnanti for lunch, a nearby fish taverna. We had octopus in vinegar to start. Kind of like ceviche. Then I had shrimp pasta and Steve ordered cod fish but ended up with cuttlefish in wine or something? It tasted okay, whatever it was. My pasta was really good. We went to a supermarket for beer but their only cold beer was small cans. So we asked at the desk and the kiosk right up the road had it.
We had three beers on the balcony and then went down to dinner. There was a large group in one of what looked like private dining alcoves. Steve ordered chicken with potatoes. I ordered sautéed sea bream. At the point where we were wondering where our food was, our waiter told us there was a big problem in the kitchen and they didn't have any sea bream so I switched it to croaker fish which it turns out is like drum or perch. Anyway the food, when we got it, was good but it was a long wait.
The breakfast buffet the following morning was excellent and the shuttle trip to the airport painless. Except now we have to go home!
This section contains affiliate links. If you click on a link we may receive a commission at no cost to you. 
The location near the port, combined with the free airport shuttle, worked great for the night before our morning flight home. Spacious room and nice bathroom and balcony. (We were given a free upgrade to a triple, which was also an accessible room.) Close to restaurants and a beach.
We took the express bus from the airport to the port at Piraeus on arrival. We chose the Hotel Avra for an overnight stop on our return trip in part because they had a free shuttle to and from the airport.