Amorgos is quiet enough to be relaxing yet has enough to see and do for a few days. We enjoyed our three days and could have spent a couple more hiking and spending time at the beach. Just driving the island is scenic. Watch out for goats!
Day 1: Rhodes (Ροδος) to Amorgos (Αμοργος)
We had planned to take a ferry from Rhodes to Amorgos but that ferry only runs during peak season so instead we're taking two flights and a ferry today. We got up at 4:00 to get a taxi at 5:00 to make our 6:35 flight. The taxi was waiting at the San Francisco stop like we asked. We got to the airport in about 15 minutes. No one paid any attention to boarding groups. We all just got in line. In Athens we saw a United States plane. Never seen one before. We rode a bus from the plane to the terminal. Looks like we'll be riding one to our next flight too.
And we did. Our flight to Naxos was about 40 minutes. Got a taxi for €15 rather than deal with an unknown bus. We picked up our ferry tickets at Zas Travel — she let us keep our luggage in the back of the office — then walked a bit, trying to find someplace in the shade to sit. Everyone else had the same idea. All the shaded benches were full of people waiting for different boats. We ended up having croque madame and coffee at Lotto. It wasn't a great sandwich but it was good, double-decker, and came with a salad. Then we picked up our bags and had Mythos pints at Captain's while waiting for our boat. It was nice to see Naxos again; we enjoyed our stay here a few years ago.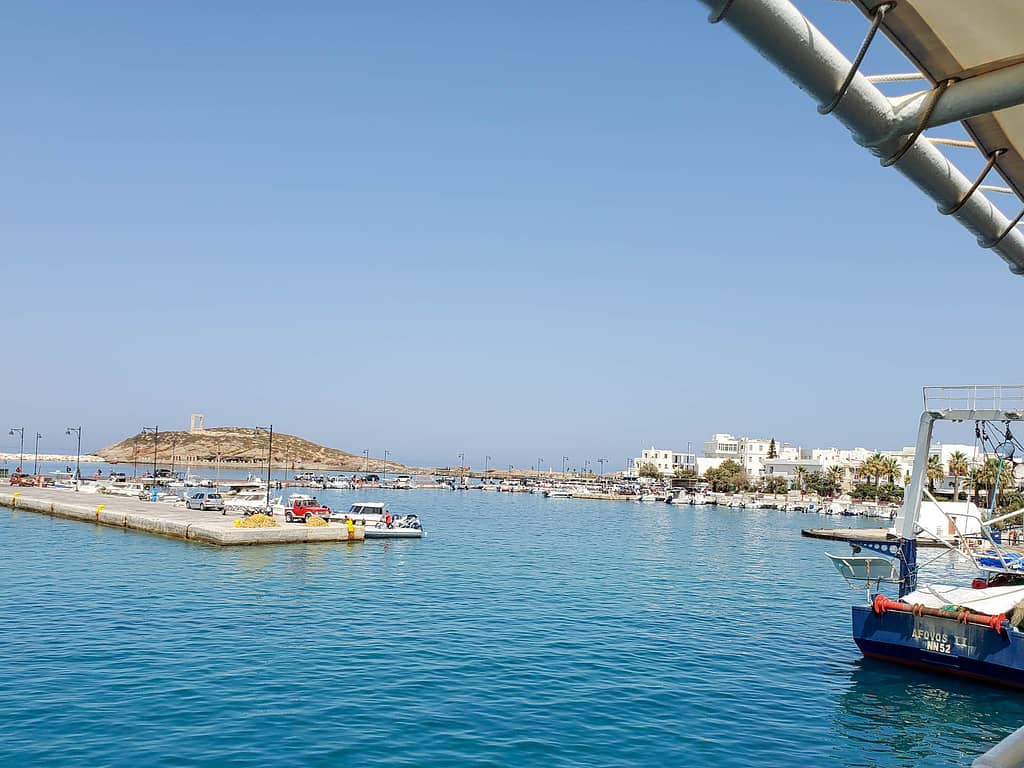 The Express Skopelitis is a smaller ferry. And it's a good thing we got on good and early because we got good seats. The seats filled up pretty quickly. At one point they said everyone needed to wear a mask while on the boat and needed to stay 1.5 m apart. That last part got a good laugh. Though I don't think they were joking. It was an interesting ferry trip stopping at the small Cyclades islands.
As an added bonus, we got to see the sun set and the moon rise!
The boat was running a little late so it was just about dark when we arrived. So we were happy we had her host meet us at the port. Partly so we didn't get lost. And partly because it is a really steep hill from the village up to where we are staying and with bags it would have been a killer.
Our studio here in Aegiali (Αιγιάλη) is very nice. It's all white and light gray and very zen. We have our own balcony with chairs and a table. We also have a little kitchenette with a hot plate, fridge, and an electric kettle so we can make our own coffee. We've got a triple so we basically are just using the single bed to put luggage on as usual.
After we dropped off our bags we quickly went down to the village for dinner and to the supermarket to get beer and breakfast. We ended up eating at Kostaras. They weren't very busy when we got there but by the time we left pretty much all the tables were full.
Then we hit the supermarket and bought Mythos beer, water and a boxed chocolate cake with dried apricots to have for breakfast. We came back and sat on the balcony and had one beer and then decided it was time for bed. It was about 11:00 by then anyway and since I only got one hour of sleep the night before and Steve didn't get much more we were beat.
We slept in as long as we wanted this morning which ended up being until about 9:00 in my case. Then we had a leisurely three cups of black coffee — because we forgot to buy cream yesterday — and our chocolate cake. Then finally around noon we set out on our hike to Langada. I spent a lot of time last night trying to find a map of the hike and a way to open the files and I finally got it via Avenza maps.
We debated stopping at our place first after the hike but in the end decided to head straight for the village and lunch. The trail came out at the end of the beach so we got to get a look at it. It's an unorganized beach. We didn't really see any umbrellas or beach chairs so not the kind of place to lounge and read a book for a while. But we may go swimming, who knows? Then we had lunch at Amorgialos. Our server was the greatest. We ordered water first and he took a good look at us and said "I think I should go get the water now. You two have been working." That was a great idea!
Side note: Bread. The bread on Rhodes was white and fluffy. The bread here on Amorgos is chewier, a little like sourdough, and you typically get two kinds: one a little yellow and one a little brown. It's all good, they're just … different.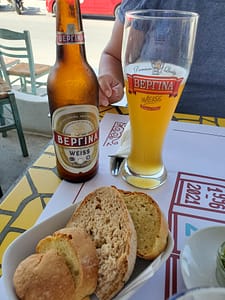 After lunch we went to the rental car place to confirm where we should pick the car up tomorrow and ask about returning it at Katapola when we leave on the ferry. Turns out it will only cost 10 euros more to keep the car so we're going to do that. Then we hit the supermarket again for the cream we forgot yesterday and some more beer. They were out of Mythos so we have Fix and Amstel (spelled in Greek letters).
Our first task when we got back was to do laundry. Now we're sitting on the balcony drinking water. I'm taking these notes. Steve's interrupting me with entertaining bits from Twitter.
We went to To Limani for dinner and had Amorgian food. Seating for the restaurant was in a courtyard and one chair was leaning downhill. Service was about the best we've seen on this trip so we gave them a tip when prompted. (Tipping in Greece is not mandatory like in the USA.) During dinner I was watching people go in and out of a small office across from the restaurant and thought it might be COVID-19 testing. No it was just a travel agency, probably handing out ferry tickets. We also overheard a discussion between someone from a boat and the restaurant. We don't know if the guy was trying to buy food for the boat or meals or provisions or what. But it was odd and no one had a credit card. We came back and drank beer on our balcony after. The breeze picked up so we brought our laundry in as soon as it was dry so it wouldn't blow away.
Day 3: Driving around the Island
This morning we had a somewhat leisurely start, picking up our rental car about 9:00 a.m. It wasn't quite ready when we got there so we took a walk along the beach and got to check that out. They don't have sun loungers and umbrellas on the beach itself but they do have some across the road from the beach so maybe we'll do that.
While waiting for the car I also went to the bakery and got tiropita for breakfast. I've been wanting to try that.  We picked up our Fiat Panda from FM Rent a Car and then got to drive up the steep hill rather than walking up it. We drove the car up the hill and parked it by our place and then had another couple of cups of coffee and our breakfast before heading out on our drive.
We decided to get snacks for dinner from the bakery and grocery rather than going out and we restocked our beer. We didn't find a parking spot on our first trip through the village — the streets are one way going through the port itself — so we had to loop back around and parked by the Captain Supermarket on the beach. We walked over to the bakery and got a couple of ham and cheese baguettes for dinner as well as a piece of raisin cake and an apple tart. Those will either be dessert tonight or breakfast tomorrow morning. Then we went to Captain Supermarket for more beer, olives, and cheese. And then we got to drive up the steep hill and park so we didn't have to haul our groceries so far.
Tonight the plan was to watch the (hazy) sunset from our balcony — which we did — drink beer, and then have our snacky food dinner. We also saw a bright green shooting star? Asteroid? Tomorrow we're probably going to the beach. We just don't know which one yet.
We woke up this morning to a somewhat unwelcome surprise: a cruise boat in the bay. (The Silver Shadow, starting at $21,000 for 15 days!)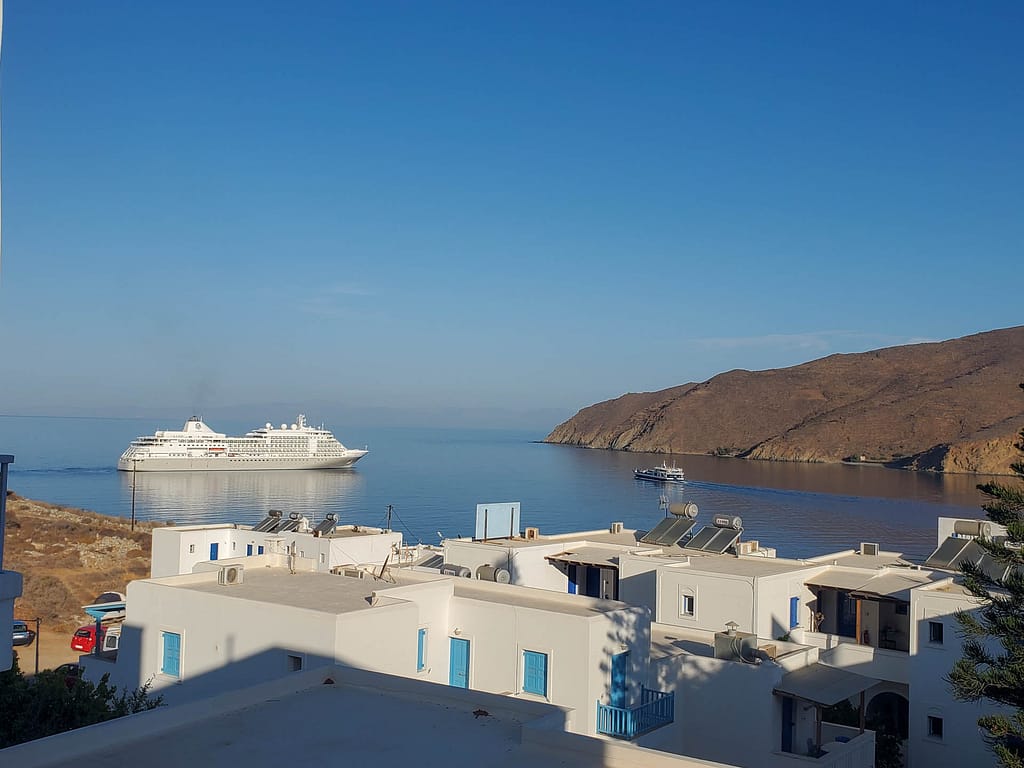 We thought it would interfere with our plans for going to the local beach but it ended up not being an issue. We had another leisurely morning with coffee and breakfast and headed for the beach about 11:20. The parking lot was nowhere near full so we went ahead and parked to check out the places that had sunbeds. (Our backup plan was to drive to the other end of the island to the beach we looked at yesterday.) We rented sunbeds from the Amorgos Dive Center. It was only 5 euros for two sunbeds and an umbrella and we were under a tree too so we had plenty of shade. There was a mostly pedestrian walkway between us and the beach and it worked out just fine. Initially we were the only people there. Later several other people showed up.
We hung out at the beach reading and going into the water occasionally and decided to get lunch from the supermarket so we didn't have to pack up our stuff. Steve walked down to the supermarket and bought beer, bread, ham, and cheese, and we put together sandwiches in the wind down at the beach. The bread was crunchy and left lots of crumbs so I'm sure the local birds were very happy we ate there. We stayed at the beach until about 4:45 and then came back and took showers in preparation for going out to eat. Just as we were getting ready to head out my heart suddenly started beating faster. It went from 146 to about 186 for no apparent reason. After I lied down and did some deep breathing it went back down to about 86. That was a relief. I felt fine otherwise and my temperature was normal.
We went back to To Limani for dinner. We had a nice chat with our server about bottle caps when we asked if we could have ours. He said he saves them too when he goes to Berlin. He too has thought about making a table out of them. After another nice meal we walked back here and did some of our packing and preparation for leaving tomorrow for Milos.
This section contains affiliate links. If you click on a link we may receive a commission at no cost to you. 
We had a calm and airy room with a great view over the village to the water. Good sized private balcony. Great shower. Nice location close to restaurants and a beach though up a steep hill. (Along with most other lodgings.) Our host met us at the ferry and drove us which was nice since we arrived after dark and that hill with luggage would be brutal. We didn't see our host after she dropped us off but reception was downstairs and we didn't seek her out. Note: The name and location shown in TripAdvisor is incorrect as of the time this was written. It's listed as Pension Akrogiali but is actually across from Nostos Studios.
There is bus services on Amorgos though we ended up renting a car for flexibility. We could walk everywhere in Aegiali.